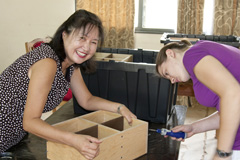 There are many things medical and non-medical volunteers can do to support medical missions without actually going to Kenya. In addition to treating patients, we provide preventive medicine information, a mini-VBS for children and individual evangelism to those waiting in line each day. Join with us as we provide the necessary support functions that make ministering in Kenya a reality.
Computer support
Fundraising
Supplies & equipment procurement
Trip logistics
Management of volunteers
Graphic design
Materials development & reproduction
Post-trip database management
Contact Gary Scherer to get started.