Tuesday March 20, 2018
We are in Oloolaimutia in the Trans Mara region of Kenya where we just finished our first full day of the Pastors and Wives Spring conference in the village of Meguarra, about 7 km from where we are staying at Manyatta Camp.
Morning coffee on the porch
Unpacking with Shadrack and John
We arrived in Oloolaimutia Monday afternoon after a trip delayed and disrupted by the heavy rains and flooding all of southern Kenya is experiencing. We had expected to arrive Sunday afternoon but decided to overnight in Narok rather than attempt to negotiate the treacherous roads at night. Part of that decision was spurred by the sights of recent flooding we encountered on the trip from Nairobi to Narok.  Shortly after we passed through the town of Mahi Mahu, we passed a 50 yard section of the main highway that had been cut last week by flash floods.
The next morning we learned that section of road was again destroyed by flash floods.  We are praying that this gets fixed before we have to return to Nairobi on Sunday.
We did have a restful night and a good breakfast the next morning in Narok before setting off for Oloolaimutia around 10 am.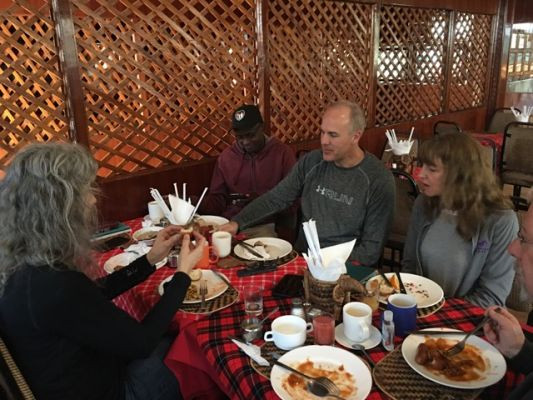 We took a little time to visit the tourist trap shops at Seasons hotel.
And then packed up for the trip to Oloolaimutia. I still don't know how Frank and John got all our gear in these two vehicles, plus passengers.
Not very long on the road to our destination we ran into a bit of trouble with water.
We found ourselves stalled in a long line of vehicles attempting to pass through this raging river running over the road.
Eventually however, a trip that should have taken 2 hours ended up taking five.  
We thank the Lord that we came to Manyatta Camp without any serious delays or trouble.  I know that many of you were praying for us and we would ask that you continue to pray.  We began the conference in earnest Tuesday morning and enjoyed a long day of hearing from the word of God and developing new friendships and renewing old ones.  I particularly enjoyed renewing my relationship with Pastor Daniel whose church is hosting this conference.
Registration begins with Frank and Shadrack welcoming the delegates.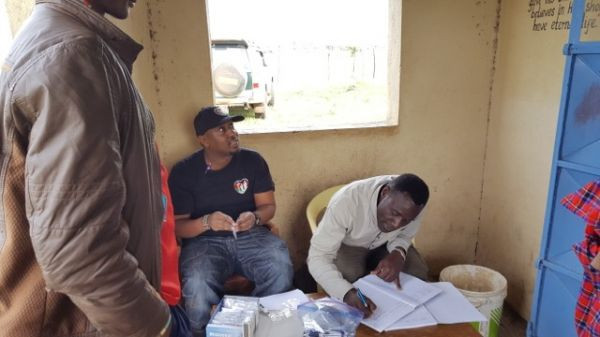 We will post more soon so stay tuned for updates.  Thank you all for your support and prayers.