Sunday, 16 August, 2020
We finished the conference on Friday and then took some time for pictures, book handouts, and maize distribution. Due to the shutdown since March, most of these pastors have had a hard time feeding their families.  So we cooked up a plan with Pastor Shadrack, who shipped the maize he had from Eldoret up to Lodwar and we handed out over two tons of maize for the pastors and their families.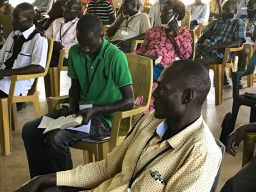 It was a very full week from morning to evening with presentations by seven different teachers throughout the week, including Pastor Tim Bourgeois via pre-recorded video. It was evident from the outset that the Holy Spirit was at work in the attendees through all the messages. And it was especially evident the evening Pastor Tim spoke on the church as Salt and Light in the world.  Just before that we had quite a long and vocal question and answer session over the many issues of culture influencing and corrupting the church.  After Tim spoke on the church as salt and light, everyone was sure that he had been listening to our question and answer session, even though Tim is still in the U.S.  One of the pastors spoke up and said, 'Pastor Tim answered all the questions!' 
One of the great things about this conference is that we had five local pastors doing a lot of the teaching sessions.  One pastor told me that 'It is so good for our people to see that we have capable ministers and teachers among us'. 
I just want to take a moment and give a great big shout out to my team, Pastor Moses Biketi, John Kamau, Pastor Shadrack Murimi and Pastor Reuben Luvanga.  These guys did most of the work and really helped to make this conference a success. 
Saturday morning, Pastor Boniface, Pastor George and myself traveled about 3 hours south to a village called Lokori to visit the church which we had given funds to build their first church. This is St Matthew, an Anglican Church of Kenya. When we arrived we were surrounded by a jubilant crowd of singing women, welcoming us to the church.
After the dedication and the ribbon cutting (actually untying the rubber cord stretched across the door!) we went inside for a short service.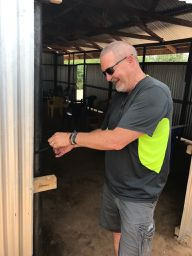 The church was very grateful for this gift of a building and I want to thank all of you, especially Joyce Pederson, for your generous contributions to the Brad Pederson Memorial Building Fund in making this happen for the people of St Matthew.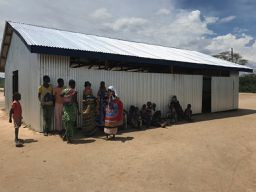 The service was followed by a big meal of nyama chomo (BBQ goat) and roasted liver, kidney, and other organs. I politely declined the organ meat, but gorged on the nyama chomo!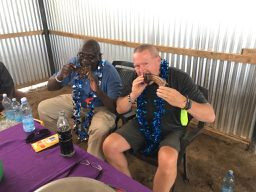 Tomorrow I head up to the Kakuma Refugee camp where I'll be visiting Pastor Stephen Lobolia and the Ateker Baptist Church.  They received help from the Brad Pederson Memorial Building Fund to build their first church last year and I was prevented last December from visiting because fighting had broken out in the camp. But there are no reports of trouble this year. Thank you all for your faithful prayers during this trip. God has been gracious and kept us all in health and the ministry of the word has been powerful.