Dear Friends and Family,
Fish FM 97.1 Studio, Eldoret Kenya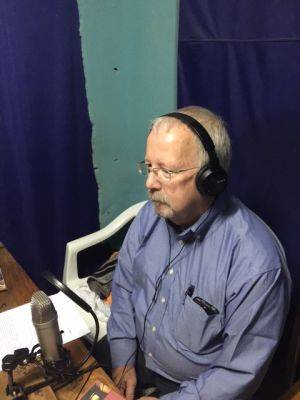 It has been a remarkable time, this past two weeks, serving and providing pastoral support in the Kenyan cities of Nairobi, Lodwar, and Eldoret and teach on the Sanctity of Human Life. We all have been moved deeply by the hearts of the people and by the many needs they have.
I have been blessed to have been able to share the Sanctity of Human Life and the work of Care Net of Puget Sound with pastors and organizations in Lodwar and Eldoret. The presentations at the API Pastors Conferences have been well received.
Yesterday I was blessed to be able to meet with the leadership of Youth for Christ here in Eldoret. In our meeting I met two young ladies that have had a vision of opening a center to support women in crises. I shared with them the programs and services of Care Net of Puget Sound and they were encouraged by the information I was able to give them. Through this meeting an invitation was given to me to speak on the local Christian radio station, which I was able to do this morning. What an opportunity to share the Sanctity of Human Life, the work of Care Net of Puget Sound and what Christ has done in my life.
Eldoret is ground zero for abortions in Kenya. More abortions are performed here than any other city in Kenya. Sadly, there are no pregnancy centers. Pray that a center will be built to come along women and families in need. Pray for the unborn.
Thank you for your love and continued prayers as we travel.
In His service.
Ben