Friday, April 22, 2022
It's Saturday evening in Nairobi and Jay and I are relaxing, enjoying the view. We arrived late Thursday evening after meeting each other in Paris since I was coming from Seattle and Jay from Los Angeles. Friday and Saturday were spent buying all the necessary things for our two conferences coming up and arranging meetings and renewing contacts.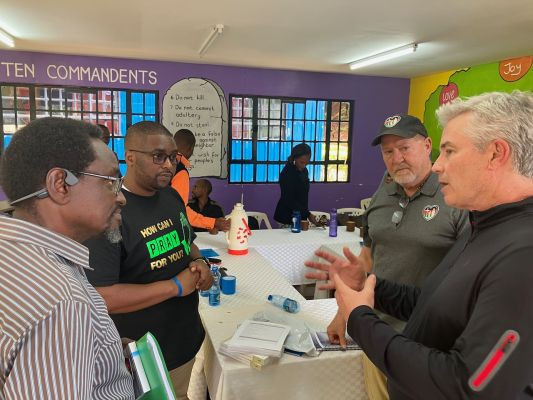 One of our meetings was with the leadership of Karura Community Chapel here in Nairobi who has expressed great interest in connecting with us for training in Biblical Counseling. Jay and I met with Senior Pastor Ngari Kariithi and Tendayi Kuvyeha the Director of Outreach and Multiplication, to share about our ministry. Jay has been in ongoing dialog with Tendayi for the past few months and this was our first opportunity to get together. Karura Community Chapel is a very large church actively engaged in their community to proclaim the gospel and make disciples and we are looking forward to partnering with them in Biblical Counseling training.
Our associate, John Kamau (second from left) is a member at this church and was the catalyst for this connnection. John has been taking the training himself and saw the value and importance of this kind of training for his church.
Sunday, Jay and will be attending the church and then Monday we are heading to Megwara to begin the first conference. Thank you for your continuing prayers for our time here. We'll have more for you later!