Sunday, December 04, 2022
I arrived in Kenya this past Tuesday and it has really been non-stop since I got here. I spent Wednesday getting all the necessary things ready for the next two weeks and then took off for Lodwar on Thursday. The plan was to arrive in the morning and then head out to the bush to some far villages to distribute food. However, 20 minutes into a 45 minute flight, I was startled to see the landing gear deploy outside my window seat. I was pretty sure we weren't preparing to land anywhere soon as we were probably 10,000 feet in the air, so I fgured we had an issue. My suspicions were confirmed 30 seconds later as we made a u-turn back to the airport. We were assured it was a minor problem and after two hours and many promises of taking off 'soon', we were back in the air headed to Eldoret and then Lodwar.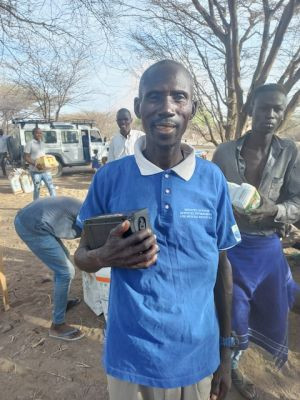 I was picked up by my driver at the airport, driven to my hotel where I dropped off my baggage, and immediately headed out to the bush to our first stop at a remote village called Kangyangapus. When we arrived, Pastor Stephen (pictured above) was preaching to his people using a Proclaimer. This is an audio device with the Turkana Bible on it. He would play a few verses, and then add his commentary and ask the congregation questions for clarification and to see if they understood. Stephen doesn't read or write as is the case with a majority of the congregation and this audio bible is all they have. As you can probably tell, this is Stephen's most prized possession.
As always, the children were both delighted and a little scared of the muzungu who suddenly appeard in their midst.
We had a great team of young men to do the heavy lifting.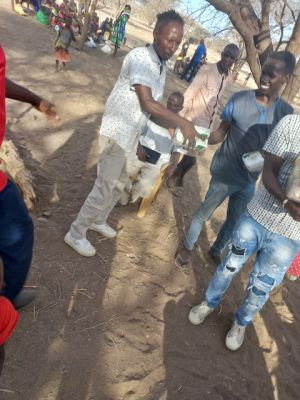 It is hard for us to fully appreciate the joy and gratitude the people of this viilage felt as they saw the food and oil being off-loaded and handed out. They have watched as their animal herds have been decimated by the prolonged drought and they have had to travel further and further for water and food to sustain their families. But is is the men who perhaps feel the effects of this most keenly. One of the older man took my hand as I was greeting him and, with evident pain in his face, told me that without their herds, there was no longer a way to be a man. When there herds of goats, and sheep and camels were healthy and thriving, they could provide for their families. But now they had no way to do that and instead were watching their families go hungry.
But these people were incredibly encouraged that there were people they didn't even know who would show such compassion as to send them food and they wanted me to relay their heartfelt gratitude and love. I want to thank all of you who have joined us in bringing food to the people of Turkana. Since August we have been helping villages like this with food and cooking oil, and we will continue to do so even after I leave. Here is a short video clip of Pastor George talking about the challenges of feeding so many hungry people. I'll be posting more tomorrow. I've been hampered by a sketchy internet network but I'll keep trying:)
","width":"670","height":"377","nocookie":"0"}[/embed]