Sunday, April 2, 2017
Narok
I know it's past time for you all to be updated so I will try to summarize our first week here in Nairobi.
Stan and I arrived in Nairobi late Tuesday night where we were met by our associate John Kamau and taken to our hotel. The next morning we had breakfast at one of the many Java House restaurants around town and spent some time exchanging money and buying some necessary supplies at the Nakumat at Village Market. I went back to the hotel to work on the conference presentations and John took Stan downtown Nairobi to buy vinyl and other printing supplies he is taking to Matete.
Gary, Lesley and their friend George arrived at our hotel late Wednesday afternoon from their time in western Kenya where they were doing some infrastructure work for the medical camps and we got to spend some time catching up and doing some strategizing and future planning. Thursday we all had dinner together before Frank took them to the airport for their flight home.
Friday was spent buying books for the pastor's conference at the ACTS Bookstore and picking up the gospel flip charts for the audio bibles we are taking to the Masaai and Turkana people.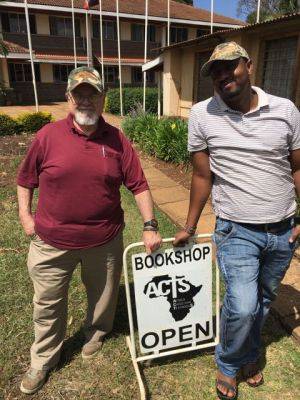 We also delivered some bibles to a pastor who is friends with one of my friends, Paul Moffet, in Puyallup. They had made connections in Israel in 2015 and Paul sent me with a suitcase full of bible to give to him.
Frank, another one of our Kenyan associates, and I took Stan to the airport to fly to Eldoret. Pastor Shadrack picked him up on the other end and delivered him safely to Pastor Moses in Matete. We also managed to visit the brand new Two Rivers Mall near our hotel - the biggest mall in East Africa.
On their way out of the airport, Shadrack had forgotten to pay for his parking so he was ushered out of the line and back to the pay booth. By the time they had gotten out of the airport down the road a bit, the car that was in front of them as they were trying to exit the airport before they were turned back had been hit head on by another. Shadrack was sure that the Lord had prevented them from exiting the first time so as to miss the accident. A minor inconvenience was a blessing for Stan and Shadrack in disguise.
Frank and I arrived in Narok this afternoon after leaving Nairobi. We had attended the Immanuel Baptist Church in Nairobi this morning where I reconnected with the lead pastor whom I had met two years ago. I'll spend the night here and travel to Oloolaimutia tomorrow morning where the conference will take place, and Frank will head to Matete to be with Stan this week. Because of the weight allowance, Stan left all the heavy bags with Frank to bring with him.
Thank you all for your prayers and support for this work. I know that your prayers are working to keep us full of joy and peace in the Lord.