Thursday September 1, 2016
It's Thursday evening at Jomo Kenyatta Airport and I'm waiting for my flight to board. It's been action packed over here for the last three weeks and I thought I'd better take advantage of the down time here at the airport to post some more. It's now 7 pm and my flight leaves at 11:59. (Might as well say Friday!) The picture above was taken at the home of Pastor Thomas in Nakepokan and was one of the best meals ever! Goat stew, ugali and nyama choma (barbequed goat).
The rest of the team left for the US this past Monday as I flew back to Lodwar to meet with some of the pastors individually, hand out more audio bibles and flip charts, and take a look at the progress of the church building in Nakepokan.
The second conference was held as you know in Mwamba and we had 69 pastors and church leaders attend, many for the first time. One comment we heard again and again from some of the pastors who have had at least a little bible school was 'We never went so deep in bible school as we have here in one week'.
Ben did another great job teaching on the sanctity of human life and engaging these leaders in good discussions on what they are doing in their churches to help women and children in crisis. Ben also took time during the week to visit the Crisis Pregnancy center in Eldoret, bringing videos, brochures, and informational packets from the CareNet Centers in the US to help this center in its work. Ben was even talking about seeing what we could do to get this center an ultrasound machine so I won't be surprised if Ben takes off for Kenya again next year with one under his arm.
During the conference, we stayed at a hotel about 20 minutes from the conference venue. One of my team assignments was coffee maestro. And as you can see, it was not only room service, but window service.
We were glad to reunite with Frank after missing him for the Lodwar conference. Frank is our API USA associate based in Nairobi and although he is our main driver, he does it all.
Friday the 26th was our last day in Mwamba and we got the whole group out for a picture.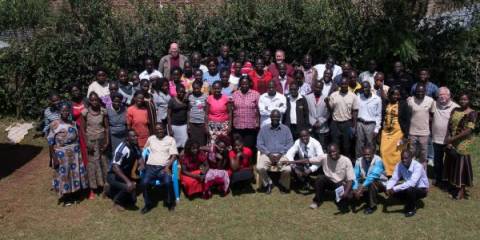 Thank you for your many prayers for us. Although by the end of the week we were all tired, we were still in good spirits as we headed down to Narok to take a day in Maasai Mara.