Saturday January 16, 2016
Stan Skinner and I took off for Kenya on Wednesday, arriving in Nairobi Thursday night. Stan is going to be working with Pastor Moses of Matete to do some more training and expansion of the sign business he started there last year. I will be visiting pastors and churches, working with our API School of Ministry Director in Kenya, Pastor Shadrack, helping two churches with the installation of floors, and traveling to Mt Elgon to the Ndorobo people with Pastor Leonard. The Ndorobo are a forest-dwelling people who are largely illiterate. Pastor Leonard has been working among them and we are bringing audio bibles and audio bible stories to help in that work.
Friday we spent the day gathering resources.
Of course we ate breakfast at our favorite coffee joint - the Java House. The manager noticed the hat I was wearing and gave us free coffee!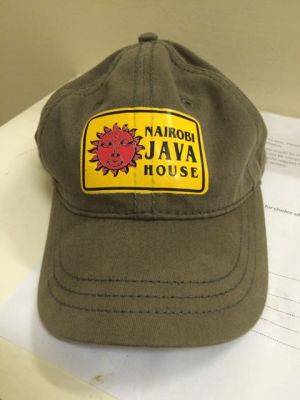 Stan had made a few of these limited edition hats and gave me one. They don't actually have any Java House hats in Kenya. So we are fairly unique. I hope to trade on this uniqueness at every Java House we come to.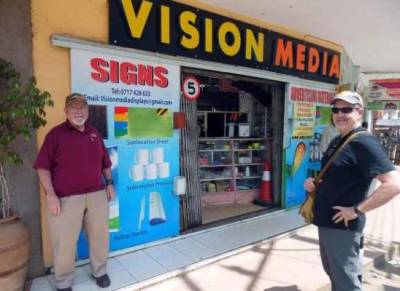 Stan visited sign shops to buy materials.
He also took some random pictures.
Most of the afternoon was taken up with a visit to Global Recordings Network where all the different Kenyan languages are loaded on to a device called the Saber. These are Bible stories that are used with oral cultures to tell the gospel, since they cannot read or write. We will be taking some of these to Mt Elgon with us.
The director, Winston Omenya, spent a couple hours with us describing the mission of Global Recordings and teaching us how to use the Saber.
Along with his assistant, Walter Okelo, the team at Global Recordings was helpful and very enthusiastic and thankful that more of their work would be reaching previously unreached people.
Late in the day, we met Aketch Aimba, the Executive Director for Pearls and Treasures, an organization in Nairobi that offers post-abortion recovery, crisis pregnancy help, and abortion and sexuality education in the slums and poorer neighborhoods. Ben Edwards, Development Director of CareNet of Puget Sound, had sent some fetal models to Aketch to help with their programs, so we met her for dinner to give those to her.
Today we are traveling to Eldoret, and then on to Matete. Thanks for praying for us throughout this journey. Stay tuned for more.