Monday, August 10, 2020
2020 has been a crazy year which makes for crazy pictures. This worldwide pandemic has forced a lot of changes in our normal routines and behaviors, not the least of which has been in our sartorial choices. Here in Nairobi you can actually be arrested for not wearing a mask. So if you must mask, at least you can choose your own look.  Frank, our API Logistics Director and I have our own unique fashion sense.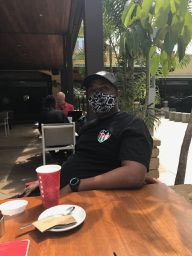 I arrived in Nairobi last Wednesday for the 7th annual Pastor's Leadership Conference in Lodwar, August 10-14.  I came a few days in advance to oversee and set up the countless details for this conference.  I have been looking forward to this time back in Kenya with my brothers and sisters after our last scheduled conference had to be cancelled this past April. By faith I purchased a ticket for August 4th, not knowing if the international flight restrictions would be lifted, but God intervened on our behalf and international travel to Kenya resumed August 1st! I was told that our flight into Jomo Kenyatta airport was the first one to have Americans back in the country after the closure in March. 
On Sunday, I traveled up to Lodwar with our API Associate John Kamau.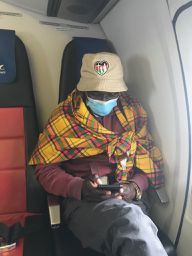 John wears a couple of hats for API. John has been one of the leaders for our medical team for several years, and as part of our Pastoral Team, he is in charge of media production, along with Pastor Reuben Luvanga.  I want to thank Rob Hostager, Executive in charge of Media productions for API, for having the foresight to train these guys in media production because this year was the first year Rob couldn't be with us for the Lodwar conference.  But we are not skipping a beat in terms of media as these two men do a fantastic job in Rob's absence.
Although it was an uneventful trip for the most part, our landing at Lodwar airport was a little exciting.  I thought we were coming in to land a little hot, and my fears were realized as we hurtled down the runway and the pilot wore out the brakes trying to stop. We eventually stopped, but well past the tarmac. At the end of the runway tarmac, there is about 200 yards of gravel, and then a fence. We managed to use most of the gravel but stopped short of the fence. (Huge sigh of relief)
I met the rest of our team that afternoon as they had traveled up from Western Kenya the day before.  Our API Conference Director, Shadrack Mogesi; API Media Coordinator, Reuben Luvanga; and API Associate, Moses Biketi.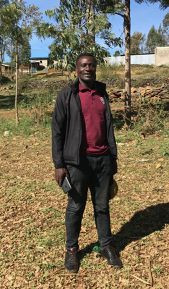 Sunday evening we had our annual joint API/Lodwar Pastors Fellowship Executive Teams meeting and dinner. The Lodwar Pastors Fellowship is the organization that first welcomed API to Lodwar and we have become fast friends as well as fellow workers in the church of God. 
This year we invited the Honorable MP for Turkana Central, Lodepe Nakura, to join us for the conference and he graciously accepted. He is the founder of SHARE International, a missions organization to the people of Turkana, where we are holding our conference this year.  He also still considers himself a missionary, as well as politician to his people and will be one of our speakers. 
Thank you for your prayers for this conference.  I'll try to keep you all updated as things kick off this evening with our first session.